Every year thousands of people from India go to South Asia and the Gulf countries to find employment related to work.
However, sometimes situations arise such that some people get trapped in these places. Sometimes in the guise of fake agents and sometimes in the clutches of cruel bosses who work there.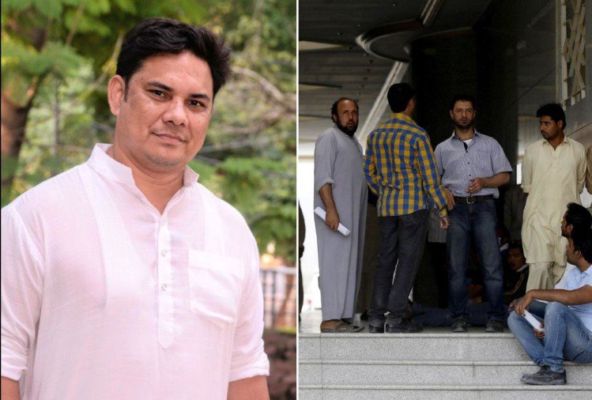 In this situation, being informed many times, the Indian Ministry of Foreign Affairs also steps forward and helps the people. But each time the cases do not reach the Indian government and many people are trapped in these countries while waiting for justice.
For the past five years, Abid Hussain has been working to evacuate some of those people.
Abid, who has been living in Bhopal, Madhya Pradesh for over a decade, is probably the 'Bajrangi Bhaijaan' of real life. At least those who know Abid call him by this name.
In fact, he has so far played an important role in the evacuation of trapped civilians in Pakistan, Saudi Arabia, United Arab Emirates (UAE), Qatar, Kuwait, Oman, Bahrain, Malaysia, South Africa and many other countries.
Despite the fact that the names of so many countries are on the tongue, Abid Hussain does not correctly remember how many people he has helped return to the country so far.
Abid, laughing at Amar Ujala's question, puts this figure in hundreds, but hesitates to estimate the real number: "It is the work of God, who remembers after doing these good works.
That is why we do not keep any records or details of the people who returned. Whatever it is, it's only on Twitter. "
People all over the country are asking for help, Abid does not allow this to happen, Abid says that his help is not limited to any Hindi belt state or North India. Rather, they have helped give back to the people of almost every state.
Abid says he rescued two Kerala children this week from Jeddah, Saudi Arabia. Apart from this, he has also helped the residents of Tamil Nadu, Karnataka, Telangana, West Bengal, Maharashtra, Uttar Pradesh, Uttarakhand and many more states to return from abroad.
From completing documents for people in trouble to embassy, ​​Abid Hussain has experienced people's problems continuously since he started helping people trapped in other countries.
In fact, those who are trapped abroad, due to their lack of knowledge and education, sometimes fall under the guise of fake agents and sometimes into the clutches of cruel bosses who work there. The situation is that many times people trapped in these countries get trapped everywhere due to lack of money and being bonded laborers and cannot even contact their families.
In such a situation, Abid does all the work related to contacting the person in trouble, completing their papers and documents, contacting and speaking with the government, the Ministry of Foreign Affairs and the Embassy. His aim is to bring people back to India as soon as possible and they are also successful in this work.
The government also pays attention, Sushma Swaraj was known by that name, Abid says that the Foreign Ministry fully assists her in her efforts. Although not known to senior officials, many regional leaders of the BJP and Congress know his work very well.
Even the Foreign Minister Sushma Swaraj used to recognize him by his name because of his work. Abid says that he never had any contact with S Jaishankar sahib, because the team from the Ministry of Foreign Affairs gives him all the help and solves the problems.
The government executed the evacuation program from Afghanistan, if someone asks for help, they will raise their hand on the fear that has spread since the arrival of the Taliban regime in Afghanistan and the evacuation of people from there, Abid says that at present the Indian government itself you are successfully executing the evacuation program.
Usually in such a situation, the Ministry of Foreign Affairs keeps control in its hands and completes the work of evacuating people on its own. But despite this, if they ever get a call from an Indian trapped in Afghanistan, they won't hesitate to help out at all.